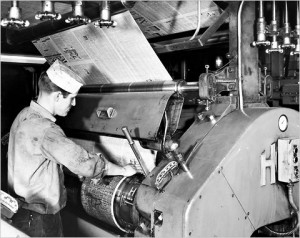 A recent article in the NYTimes, Well: Less Active at Work, Americans Have Packed on Pounds outlines that one area coming into focus more than in previous years is the measured decline in physical activity by the changing nature of employment in the US.
A sweeping review of shifts in the labor force since 1960 suggests that a sizable portion of the national weight gain can be explained by decliningphysical activity during the workday. Jobs requiring moderate physical activity, which accounted for 50 percent of the labor market in 1960, have plummeted to just 20 percent.

The remaining 80 percent of jobs, the researchers report, are sedentary or require only light activity. The shift translates to an average decline of about 120 to 140 calories a day in physical activity, closely matching the nation's steady weight gain over the past five decades, according to the report, published Wednesday in the journal PLoS One.
Walker Engineering has been beginning active work on integrating exercise and activity back into the workplace to aid in improving working and living conditions and general health of employees.  As the article goes on to say
… the new emphasis on declining workplace activity also represents a major shift in thinking, and it suggests that health care professionals and others on the front lines against obesity, who for years have focused primarily on eating habits and physical activity at home and during leisure time, have missed a key contributor to America's weight problem. The findings also put pressure on employers to step up workplace heath initiatives and pay more attention to physical activity at work.
If you need assistance developing an initiative contact mo@weningineering.org.